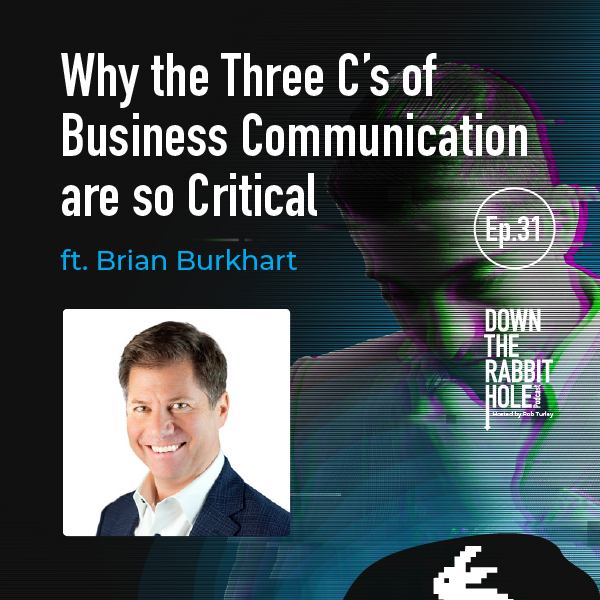 DTRH Episode 31
Why "The Three 'C's of Business Communication" are so Critical 
"The Three 'C's of Business Communication" are crucial to an internal or external communication structure in all businesses, no matter the industry or the vertical. Communication and understanding, or the lack thereof, is either beneficial or detrimental. The key is to elevate people and have a well-defined purpose.
"Justification subverts your own growth." 
Key Takeaways: 
The Three 'C's of Business Communication:

c

larity, conviction, and connection. When communication is broken, it's often one of the three 'C's, and one 'C' failing usually leads to the other three backfiring. 
 

The best presenters all have something in common:

Presenters like Steve Jobs are obsessive about what? About their audience. Sure they may not be the most tolerable people in an intimate situation, but speaking to the audience FOR the audience creates the best possible outcome

. 


 

Do not allow unawareness to control your success:

Unawareness is a scourge upon a person or a business's effectiveness to communicate. One must look in to be able to see out with clarity. How well are you communicating with the people around you?

 

Your business must have a well-defined purpose: The purpose your business stands for should not be process or product-oriented. It should be almost a meta-purpose. The reason you exist. It goes much deeper than the superficial. It is not "what you do," it's "why you do it."
Episode Summary 
In today's episode of Down The Rabbit Hole, your host, Rob Turley, Co-Founder & Co-CEO at White Rabbit Intel, delves deep into the mind of Brian Burkhart who is a master of communications and public speaking. 
Brian and Rob talk about how mindset, business communication, and "The Three 'C's of Business Communication" are all connected to one another and drive a business (or a person) to the highest level of success and personal/organizational development. It's not what you know, it's who you know, AND how well you can communicate with them. Looking in to see out is so important. Understanding and accepting the problem is the first step to recovery.  
About Brian 
At the heart of almost every professional sales process is the actual sales presentation, or pitch, itself. Long or short, highly technical or simply skimming the surface, sales presentations are unique, critical opportunities to create trust, connection, and understanding. Do this well, and suddenly hitting quota becomes easy. Struggle along and soon you'll be wondering if sales are the right occupation for you! Here's the good news, sales presentations are a learnable skill. 
The best ones are rooted in brain science that works no matter the industry, nor audience. And best yet, once you know the secrets to success, you may even find these pitch opportunities to be downright fun. 
Brian is the Founder and Chief Word Guy at SquarePlanet Presentations, a Phoenix, AZ firm dedicated to "Elevating People" by helping individuals, teams and enterprise clients improve their pitch game. He's been at this for decades. Literally.  
Join #SAFFG (Sales a Force for Good) 
Feel free to connect with Brian Burkhart or Rob Turley on LinkedIn or follow Rob @RobTurley2,  or Brian @BrianSaysBeBold on Twitter! 
#DTRHpodcast #FollowTheWhiteRabbit #SalesEnablement #PersonalDevelopment #BusinessCommunications #PresentationSkills #Purpose #MIssion #Vision #Mindset #PublicSpeaking