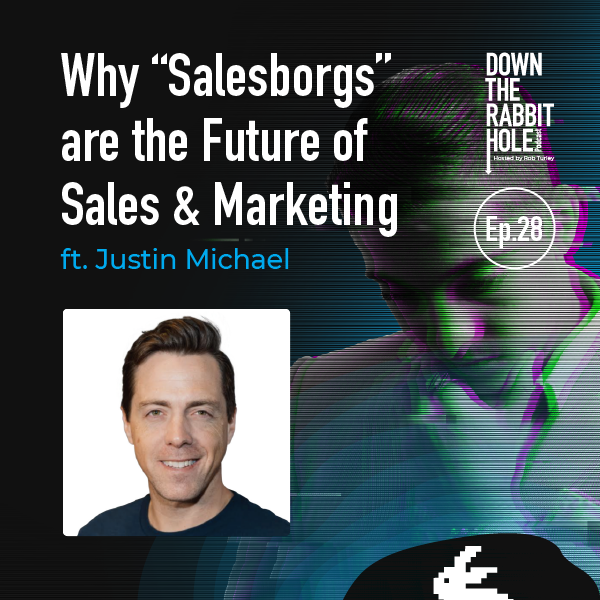 DTRH Episode 28 
Why "Salesborgs" are the Future of Sales & Marketing 
What is a "Salesborg," you may ask? A "Salesborg" is a human-machine combo, like a cyborg, but in the context of an incredibly tech-proficient individual working in harmony with software and automation to optimize selling and outreach. The future of sales and marketing lies in the hands of salespeople who leverage technology to maximize performance and output. 
This is an image of a fractal pattern. These are found in all of nature. 
Key Takeaways: 
Emails are actually visual communications that are best structured in fractal patterns (A.k.a. Fractal heuristics). Our entire universe exhibits these same repeating patterns. Why not our emails? At every level of scale, the pattern outlining the whole; emerges from everything in nature. It quite literally will make the email feel "just right," which will

increase pipeline velocity, and therefore, revenue velocity.


 

Do not innovate too far from familiarity:

Innovation is what drives humankind forward, but innovating beyond familiarity will often be "too much to handle" for the majority of the population. This does not mean innovate less—it simply means keep innovation at a level of common understanding and normality, then spoon feed it further for people to adjust slowly and comfortably. 
 
The science of personalization and heuristics:

Personalization often

is misinterpreted as desperation because it goes too far and often feels "creepy" to the prospect. Mention of a prospect's alma mater and insistency of personalized content is a limiting heuristic. Ultimately it kills your productivity.

Relevance at Scale: If you can't find a first-degree connection who knows the prospect or an existing relationship in common—switch to industry or persona-based levels of personalization. 
Episode Summary 
In today's episode of Down The Rabbit Hole, your host, Rob Turley, Co-Founder & Co-CEO at White Rabbit Intel, delves deep into the mind of Justin Michael to discuss a profound and insightful explanation of using mathematical and heuristic principles in your sales and marketing communication and conversation strategies. 
Justin has mastered using the laws of natural form to effectively create content for sales that resonates with prospects and clients in a truly unique way. It resonates to the meta-level, whereas people who engage with his content are likely to subconsciously establish a desire to learn more or set up a meeting due to the nature of the language used. The way it quite literally "felt" to the prospect. 
About Justin 
Justin "TQ" Michael is an avid technologist and sales futurist that has sought to automate sales development itself for dozens of cutting-edge technology startups over the last two decades.
Justin has coined the term "Technology Quotient" (TQ) as distinct from IQ and EQ for sales and marketing. He's releasing a book called "Tech-Powered Sales: Achieve Superhuman Sales Skills" in 2021 as a disciple of Aaron Ross and "Predictable Revenue." He was the featured case study in "Combo Prospecting" by Tony J. Hughes as "the cyborg rep." 
Justin has worked for Salesforce, LinkedIn, Sean Parker and consulted over 100 startups on cracking top funnel with converged tech stacks.
Justin started an entire organization (syndicate) for fellow Salesborgs to have a community called Salesborgs.ai.
"Use resonance, pain, and fear to trigger people emotionally." 

- Justin Michael 
Join #SAFFG (Sales a Force for Good) 
Feel free to connect with Justin "TQ" Michael or Rob Turley on LinkedIn or follow Rob @RobTurley2 on Twitter! 
#DTRHpodcast #FollowTheWhiteRabbit #SalesEnablement #Salesborgs #Borg #EmpathaticSelling #Coaching #SalesTips #Heuristics #AI #SAFFG #TQ