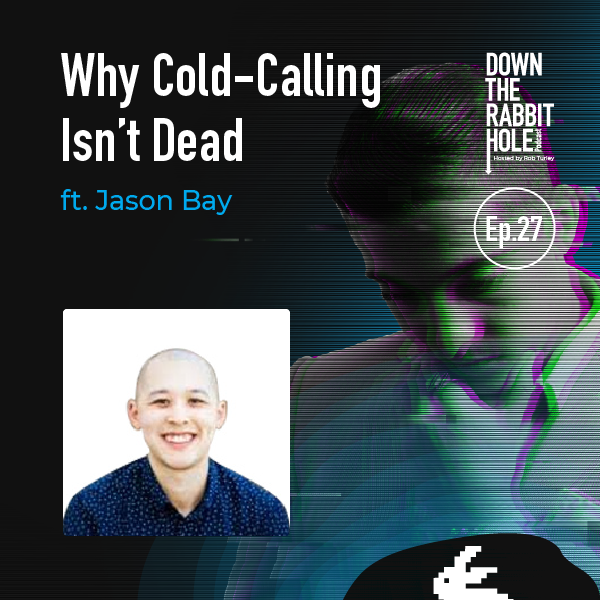 DTRH Episode 27 
Why Cold Calling Isn't Dead 
Selling has become a world of outbound, especially after the pandemic. Some people say that cold-calling is dead, though, 2020 happened... Cold-calling has become one of the most effective forms of selling again. It has risen from the ashes like a phoenix! What are the need-to-knows for cold-calling? Well, Jason Bay's got you covered. 
Key Takeaways: 
Leverage your prospect's value prop to strengthen your own: By doing so, you make the principal point of your conversation about their core values, beliefs, and overall company mission. It creates a well-defined way to make the prospect the hero while strengthening your own value prop in the process. 
 

Share wins that clients are having over sales successes:

Driving your team's knowledge and morale by sharing wins that your clients are having. It creates belief in the product, and each win becomes a powerful story for future selling efforts. A sales success on the other hand means the salespeople are literally just doing their jobs.

 
 

Proof + Passion x Persuasion = The Equation:

It's the golden combo. Proof of concept by telling stories, passion while doing so (true belief in what is being sold), and the ability to persuade, and sell past the "no" is necessary for a successful cold call

. 
Episode Summary 
In today's episode of Down The Rabbit Hole, your host, Rob Turley, Co-Founder & Co-CEO at White Rabbit Intel, delves deep into the mind of Jason Bay to discuss the cold-calling process, how to effectively sell while using a phone, and talk about the best practices to get the outcomes you desire. 
Cold calling has recently had another boom, though that boom is driven by mobile number access. Cold-calling has been dead for quite some time, though it has resurrected itself as a reprieve in our noisy digital world. 
About Jason 
Jason Bay is Chief Prospecting Officer at Blissful Prospecting. He helps reps and sales teams who love landing big meetings with prospects but hates no-to-low-response cold emailing, and salespeople who do not feel confident while making cold calls.
Jason works with reps and sales teams from companies such as Zoom, CBRE, Databricks, Bolton & Company, Fortinet, and numerous others. Selling is the only "adult job" Jason's ever had. And he's done everything from selling house painting services door to door, running outbound call centers, to help hundreds of reps master cold outreach.
"80% of prospecting success is the art of conversation." 

- Jason Bay 
JOIN #SAFFG (Sales a Force for Good) 
Feel free to connect with Jason Bay or Rob Turley on LinkedIn, or follow Rob @RobTurley2 on Twitter! 
#DTRHpodcast #FollowTheWhiteRabbit #SalesEnablement #ColdCalling #Prospecting #Sales #Coaching #SalesTips #SDR #BDR #SAFFG