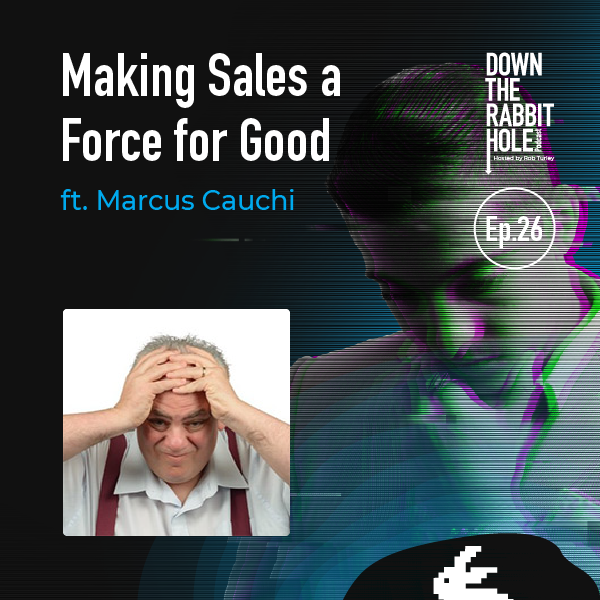 DTRH Episode 26 
Making Sales a Force for Good 
When did the sales industry go down the proverbial toilet?  What happened to a customer-centric business model or buyer safety? The customer is not an afterthought. Value is delivered through transparency, commitment, and constructive conflict. Competency is measured by solving problems without fearing confrontation. 
"67% of buyers consider sales and salespeople to be 'morally bankrupt'." 
Key Takeaways: 
Engaged employees create 273% more profit: Salespeople and other employees are not "assets." They're human beings that need a mission, vision, and purpose to see value in who they are and confidence in what they do. 
 

Buyer safety should be central:

The customer should NEVER be an afterthought. Centralizing a business around protecting and serving the customer is proven to keep growth at a high trajectory

. Play an infinite game. 
 

Decision-makers want to be challenged:

Do not avoid conflict with the customer or prospect.

They're not "always right." If what they believe is actually hurting them—help them realize there's a better way

. 

Fact: quota-based sales are not effective:

The performance of a sales team that doesn't have to "meet quota" with leadership that has a solid ethical foundation who have the freedom to build quality relationships

sell more.

 
Episode Summary 
In today's episode of Down The Rabbit Hole, your host, Rob Turley, Co-Founder & Co-CEO at White Rabbit Intel, delves deep into the mind of Marcus Cauchi to talk about how sales have become "morally bankrupt" and what we need to change to make selling a force for good. 
The sales industry has plummeted into a deep, dark hole that was dug by incompetence and tragic desperation. Salespeople have become feared and avoided and this has caused serious issues with the way we view business development. 
Something fell off in the 70s and 80s where salespeople became predatory, aggressive, and were told that "it's okay to lie if it gets you the sale." Sales leaders must work together to reconstruct the industry to become a force for good. 
About Marcus 
With over 30 years of experience in sales, Marcus believes that selling is a service profession, not a self-service profession. 
Unfortunately, he's found not everyone sees it this way, which is why he's a man on a mission to rewrite the sales industry. This is due to where the practice has been driven by the unscrupulous and incompetent. 
Marcus is furious that the financial cart is being put before the customer success horse. He's livid that salespeople are being trained, encouraged, and incentivized to lie, manipulate, and mis-sell by managers and leaders who make the customer pay a heavy price for their greed, lack of competence, and soulless immorality. 
"1/3 of B2B buyers want a 100% seller-free buying experience." 

- Gartner 
JOIN #SAFFG (Sales a Force for Good) 
Feel free to connect with Marcus Cauchi or Rob Turley on LinkedIn, or follow Rick @The_Inquisitor or Rob @RobTurley2 on Twitter! 
#DTRHpodcast #FollowTheWhiteRabbit #SalesEnablement #buyersafety #procustomer #SAFFG #channelsales #customerfirst #Scale #Growth #Mindset