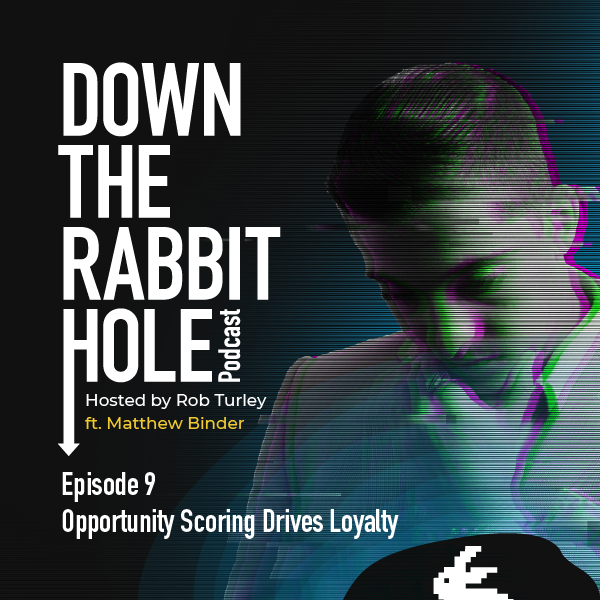 DTRH Episode 9: Opportunity Prediction Drives Loyalty (Ft. Matthew Binder)
How can salespeople attract new customers, increase demand, create more value, and drive customer loyalty? There are a few complex ways to do so but the most simple, yet effective way is by leveraging predictive opportunity scoring. 
In today's episode of Down The Rabbit Hole, our host, Rob Turley, delves deep into the mind of Matthew Binder to learn how opportunity scoring predictions add a significant advantage to your sales process and will generate a tremendous increase of ROI. 
1. How do we choose the leads and opportunities we invest in?

2. What components of your business do you consider?
Identify the needs that are causing customers the greatest pain and that is most vital for a brand to solve. By focusing on these pain points you can uncover latent needs that your offerings could fulfill and ultimately, create differentiation between those needs among your key target market.
There are numerous hidden costs and opportunity losses become more frequent the longer a business pushes back on integrating predictive opportunity scoring technology into their sales and customer success models.
Some Advanced AI technologies can score sales opportunities to determine the likelihood of having a positive engagement and which prospects are not a good fit—wasting less time and substantially reducing the Cost of Acquiring Customers (CAC).
Here to uncover all about opportunity scoring and its many valuable applications is Matthew Binder. His depth of experience in the sales industry and in his current role as an Account Executive at Toggl makes Matthew an industry leader in revenue strategy.
Feel free to connect with Matthew Binder or Rob Turley on LinkedIn!
#DTRHpodcast #FollowTheWhiteRabbit #SalesEnablement #ROI #PredictiveAnalytics #Sales #OpportunityScoring