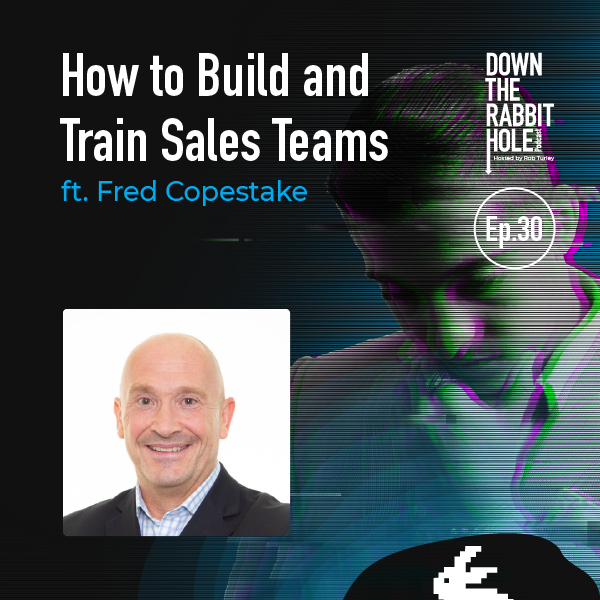 DTRH Episode 30 
How to Build and Train Sales Teams
Building and training sales teams is a challenge that most businesses face and fail at establishing. Sales Managers and Sales Directors are often training teams to execute strategies and tasks that straight-up do not work. The traditional sales process is dead, and the ability to adapt and change is critical. According to Justin Michael and Tommy Hughes' book, Tech-Powered Sales, "SDR teams fail 80% of the time, and the sales industry is the only industry that this failure rate is considered acceptable." 
Key Takeaways: 
Drive selling with the 6 Elements of Sales:

 

Trust, win-win focus, interdependence, transparency, comfort with change, future-oriented. 
 

End the "Olde Worlde" sales function:

Selling as if it were 1985 is not only out-of-date but straight-up, ineffective. People don't buy the way they used to. Empathy is everything, and mutual benefit is the way. 


 

PQ (Partnering Quotient):

You may have heard of IQ, EQ, or TQ, but PQ is one of the largest drivers for establishing a successful sales or partnership relationship. Remember this: Companies don't partner, people do

.

 
Episode Summary 
In today's episode of Down The Rabbit Hole, your host, Rob Turley, Co-Founder & Co-CEO at White Rabbit Intel, delves deep into the mind of Fred Copestake who has trained quite literally tens of thousands of salespeople and hundreds of sales teams. 
Fred and Rob talk about the mistakes that sales organizations make, constantly, and the damage that it causes. They talk about what needs to be done to repair this tragedy of a situation. The failure rate of sales teams and coaching programs is borderline pathetic, and the willingness/awareness of the change within the sales industry is far from understood by the majority within it. 
About Fred 
Fred Copestake is the Founder of Brindis, a sales training consultancy. Over the last 22 years, he has traveled around the world 14 times visiting 36 countries, and worked with over 10,000 salespeople. 
He has taken aspects that make a significant impact on modern selling and put them into his book Selling Through Partnering Skills. The ideas within form the basis of Fred's work with sales professionals who are involved in complex B2B sales—to develop their approach and ensure that it is up-to-date, and has maximum impact. 
"Organizations don't partner, people do." 
Join #SAFFG (Sales a Force for Good) 
Feel free to connect with Fred Copestake or Rob Turley on LinkedIn or follow Rob @RobTurley2  or Fred @FredCopestake on Twitter! 
#DTRHpodcast #FollowTheWhiteRabbit #SalesEnablement #Sales #SalesTraining #SalesTips #Coaching #PQSales #SAFFG #Career #ProcessImprovement