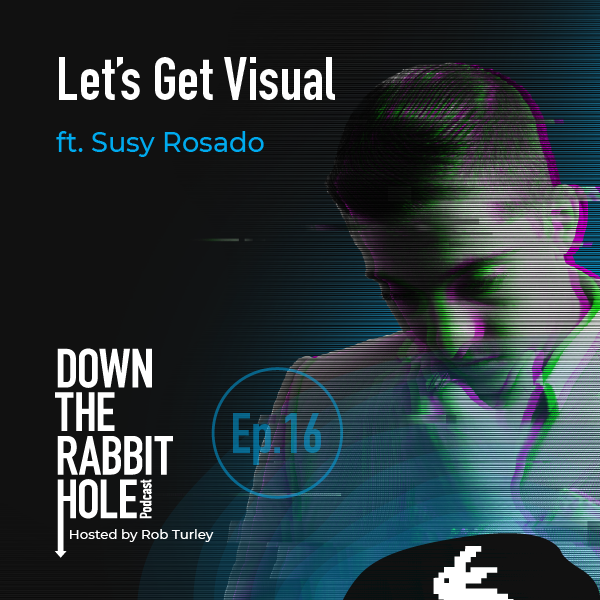 DTRH Ep.16:

Let's Get Visual - Feat. Susy Rosado 
Learn the steps for effectively present yourself on Zoom by properly leveraging the camera, timing, and scripting in a virtual setting. Our webcams are critical for establishing a real human connection and resonating with the people in your audience. Making "eye contact" to show your true intentions is imperative to build trust and develop a strong relationship effectively. 
Episode Summary 
In today's episode of Down The Rabbit Hole, your host, Rob Turley, Co-Founder & Co-CEO at White Rabbit Intel, delves deep into the mind of Susy Rosado to teach us how to leverage using our webcams during virtual meetings, webinars, and events. It's crucial to become comfortable on camera in a virtual setting because appearances and confidence are everything. 
Knowing how to present yourself and effectively use your voice to come off as genuine is often the difference between trust and distrust. Body language is the majority of human communication. It's a subconscious requirement for humans to resonate with one another, and come to a mutual understanding. 
Quickly developing a positive rapport is a serious advantage. Rapport is the precursor to a relationship. The stronger the rapport, the easier it becomes to establish trust and create that strong relationship with your audience that we work so hard to achieve. 
About Susy 
Passionate about how entertainment influences people's lives, Susy Rosado is a successful tv producer, a seasoned actress, and a talented talk show host who specializes in catering to Latina women in the US and Latin America with the philosophy of driving meaning and purpose within the media she produces. 
Susy is an ambassador for the "Clave al Exito: Una guía Educativa para padres," she is one of the co-hosts for "Revista De Zuleyka" and is currently the producer, writer, and host of parenting tips videos that air on the segment called "Vida y Salud" on HITN Network.  
Susy has worked with Walmart and P&G brands on branded entertainment segments for millennial moms on Univision digital platforms and was a producer, director, and host with multinational Johnson & Johnson's "Momentos de Mama" on Telemundo Networks. Simultaneously, throughout Latin America, she's been busy hosting the personal finance series called "Así Vivimos Así Crecemos" for Grupo Sura and webisodes of home renovation webisodes for "Handyman Al Rescate"—sponsored by Home Depot. 
Susy has been producing women and family-oriented content since 2009 when she began her own tv series called "9 MESES," a multi-platform media regarding 90-second how-to videos distributed on national television by VME that has aired in over twenty Hispanic countries on AMC/Chello Latin America. 
Aside from her acting and broadcast media production career, Susy worked in corporate finance in Mexico at the companies Gruma and Cemex, reporting directly to the Chief Economist. However, she is currently is working at Douglas Elliman Real Estate, selling luxury properties, volunteers reading to children, and is the proud mother of two boys.
Feel free to connect with Susy Rosado or Rob Turley on LinkedIn, or Follow Susy @susyrosado and Rob @RobTurley2 on Twitter or Facebook! 
#DTRHpodcast #FollowTheWhiteRabbit #Engagement #MediaProduction #Actress #ZoomTraining #Scripting