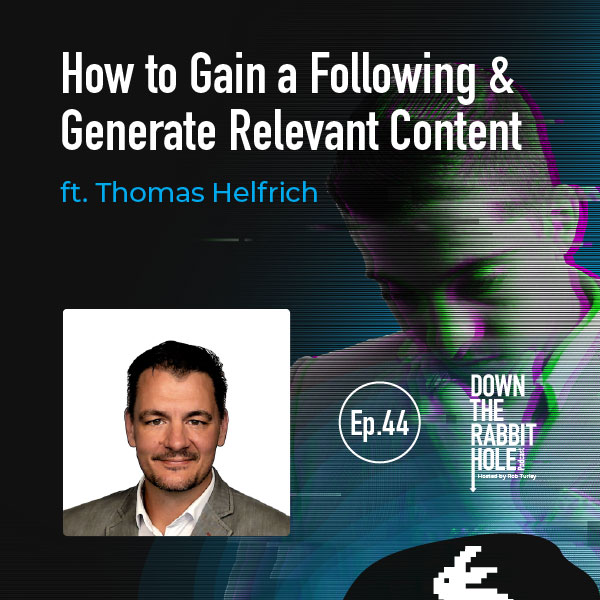 DTRH Episode 44
How to Gain a Following & Generate Relevant Content
Gaining a following and generating constant content that maintains your digital relevance is more challenging than it sounds. What does every business, business owner, influencer, and networker need in common? To stay relevant, follow trends, and keep their audience's attention. Thomas, master of contextual relevance, and Rob talk about the best practices and technologies you can use to build your following, generate content, and become or remain relevant. 
Key Takeaways: 
Fully commit to ONE social or networking platform. Stretching yourself results in self-destruction. 
 
Don't leave "dead-end" comments or create posts that don't start a conversation. 
 

Follow and familiarize yourself with market and behavioral trends. Trends are always relevant. 

ALWAYS give before you get. No one likes "selfish" content or engagement. 
"Technology is meant to augment and enhance humans to create progress, not to replace them." 

- Rob Turley 
About Thomas 
"Why "Ai Nerd?" Honestly, I saw ainerd.com for sale on GoDaddy for 8.99 and bought it. True Story." 
Thomas is a LinkedIn Influencer with over 165k followers and the CEO of Instarel. But first, let's go back a bit... Thomas grew up in St. Louis, MO. Great town and graduated at the end of the "DotCom Boom," which seeded his career path. 
Once the boom was over, Thomas went from being an entrepreneur to corporate and consulting. 10 years or so of experience here showed him how companies and people make decisions, think, buy tech, implement, and support it. 
Enter RPA (Robotic Process Automation). This technology, once observed, fundamentally changed his trajectory. That showed him the power of tech and how it can transform businesses—especially when AI is involved. 
Today, Thomas is now the "Ai Nerd" at heart. He loves tech and knows how to successfully apply it in your business. He's lucky to have the gift to explain it in an "un-nerdy" way and has successfully done so for 20+ years. 
As an AI-innovation, intelligent automation, and LinkedIn expert, Thomas knows how to transform digital relevance into a revenue-generating machine. 
Feel free to connect with Thomas "Ai Nerd" Helfrich or Rob Turley on LinkedIn or follow Rob @RobTurley2 or Thomas @instarel_ai on Twitter! 
#DTRHpodcast #Influencing #SocialMedia #ContentStrategy #DigitalRelevance #AI #Innovation #Trends #Culture