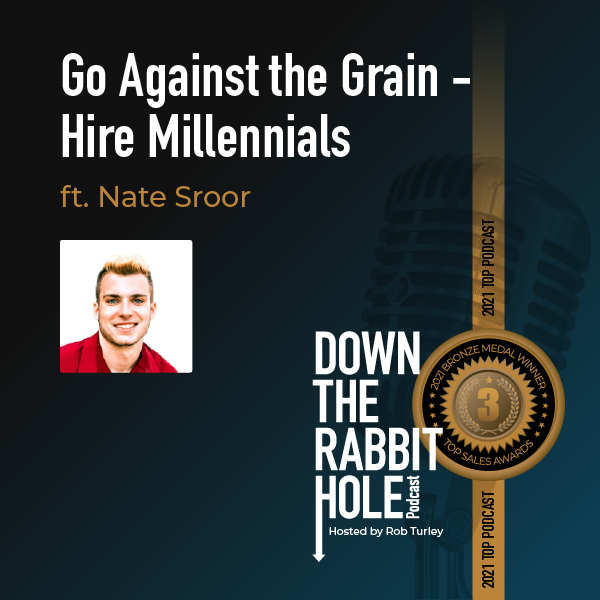 DTRH Episode 45
Go Against the Grain - Hire Millennials
Learn from two C-level Millennials about how to hire Millennials. Enough said. 
Key Takeaways: 
Spot the hustle. How to find the millennials with the drive and determination to learn at any cost. 
 

Test them. Though it's an "out-of-scope" ask—see how committed they are to helping you and your business. 

Loosen up and take on a bit of risk. Give millennials more room to grow and allow them to take on larger responsibilities in a shorter timeframe—or else

they will leave

. 



People grow and progress at different rates, though most millennials will put in the work to learn and grow at an alarming rate. 
"I'm 21 years old and netted $1.6M in revenue in my first 8 months at my current business—so what does my age have to do with my ability to produce?" 

- Nate Sroor
About Nate 
Nate Sroor is the Chief Revenue Officer (CRO) of Pneuma Media, and his focus is on growing the client and partner network. Since joining the team, Pneuma has drastically increased revenue and client acquisition, month-over-month. 
Nate launched The Conscious Rebellion podcast in 2020 after seeing the direction our world is heading in. Gen Z has the power to right the wrongs of generations past and exposes the truth about what is happening in our world today, though only if they're aware of it. Nate's mission is to lift back the curtain for them. 
Nate has spent his entire professional career building and scaling businesses across multiple different industries. 
Feel free to connect with Thomas "Ai Nerd" Helfrich or Rob Turley on LinkedIn or follow @RobTurley2 on Twitter! 
#DTRHpodcast #Hiring #Millennials #Sales #Recruiting #GenZ #Trends #Culture