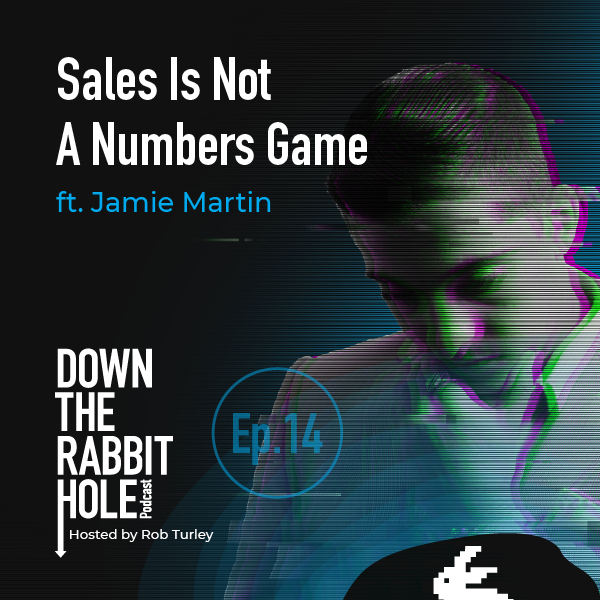 DTRH Ep.14:

Sales is

Not

a Numbers Game - Feat. Jamie Martin 
Why is it so damn hard for people to understand that sales and selling is not a numbers game?! Ever... From start to finish, from new hire to seasoned veteran, selling is and always will be driven by people, culture, empathy, and relationships. Period. 
Episode Summary 
In today's episode of Down The Rabbit Hole, your host, Rob Turley, Co-Founder & Co-CEO at White Rabbit Intel, delves deep into the mind of Jamie Martin to define what it means to maintain a healthy sales organization that is driven by people, culture, and relationships. The key to a healthy sales organization starts at the recruitment, and ends at the way we treat, coach, and incentivize our sales teams. After all, it directly affects how we sell! 
Understanding how to recruit and why it's important to recruit properly is a massive gap in the sales industry. There is a lot to be learned from recruiting and recruiters that strategically applies directly to sales strategy and organizational goals—especially learning to focus on the quality of prospects and qualifying leads based on relationship potential while social selling is an integral activity in sales for businesses to survive in a digital/modern environment. 
If we fail to put the people first, there will always be something amiss. There will always be issues amongst the hierarchy of the teams and the satisfaction of the employees. When there are hindrances with the aforementioned, the leadership will feel it too by seeing results that aren't quite up to snuff and pushback from their staff. 
About Jamie 
Jamie Martin BSc (Hons), PGCert is the Managing Director & Founder of Correct Careers Coaching is an award-winning (3x) sales professional, cocreator of a B2B sales e-Learning course. He is an author, podcaster, and public speaker. Jamie is passionate about sales strategy, social media, and sales training to improve their revenue and processes. 
Jamie helps streamline business sales strategy - enhancing a strategic approach to selling, resources, developing employees' selling skills, ICT/materials utilized during the sales process, etc. He delivers modern sales training (full sales cycle), including social media marketing/prospecting, lead generation, new business conversion, client relationship management, negotiation, and his own pioneering program called "Sales Psychology." 
Jamie has 10+ years of experience in B2B & B2C—working within the corporate sales, marketing, media, and the recruitment world and provided sales training to over 28 different industry sectors while working with all businesses' levels and sizes.  
Jamie has received the "Best SME Sales Training Consultancy - South West England (2020)" Award and the "SME News - Sales Selling Strategy Training of the Year 2020 - South West England" Award. 
Feel free to connect with Jamie Martin or Rob Turley on LinkedIn or Follow Jamie @CorrectCareers, and Rob @RobTurley2 on Twitter! 
#DTRHpodcast #FollowTheWhiteRabbit #SalesEnablement #SalesTraining #SocialSelling #CorrectCareers