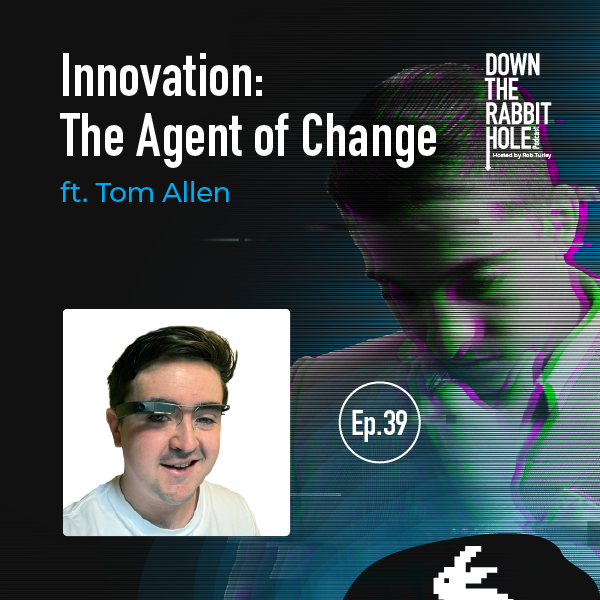 DTRH Episode 39
Innovation: The Agent of Change
Technological innovation has been accelerating at an exponential rate since the mid-20th century, and it won't be slowing down anytime soon.

Where is the world is headed? What will be driving the next "boom?" How will future innovation transform the way we live, do business, and the world we live in? 
Key Takeaways: 
BEWARE the status quo!

It is your greatest competitor, whether you like it or not. 
 
Technology isn't "evil." It's only a tool. How people intend to use it for either "good" or "evil" makes it so. 
 

Failure is necessary to drive innovation. 
Episode Summary 
In today's episode of Down The Rabbit Hole, your host, Rob Turley, Co-Founder of White Rabbit Intel, delves deep into the mind of Tom Allen. Tom is a technology mogul and entrepreneur. Tom and Rob have an in-depth conversation about where the world is headed and what the future of technological innovation will potentially hold for the world. Buckle up because it gets a bit rocky and controversial! 
About Tom 
The best way to describe Tom is as an AI enthusiast. Tom's been featured in Forbes, Business Insider, Yahoo! Finance, MarketWatch, Reuters. He founded a media company that hosts "The AI Journal"—which has been labeled as the fastest-growing new media company "you need to watch." 
Board Advisor to Alphalake AI, a technology company, supporting the healthcare sector by giving a better Digital Patient Experience through RPA and Intelligent Automation. 
"I love to take calculated risks, gets my blood pumping. Always enter a situation with all my energy. Always optimistic. Love to read, aim to do two books a week." — Tom Allen
Key results Tom's delivered in the past three years:

Added £9m of new business to companies revenue within nine months, which added an initial £35m+ customer lifetime value to the business

Improved organic inbound lead generation from 8 inquiries a month to a minimum of 20 a month within six months. Please note the minimum order value was roughly £100k with the largest being £5.8m

Handled partnerships with £B robot providers/manufacturers including KUKA, ABB, Fanuc, Mitsubishi, and Staubli

Done successful inspection and analysis leading to improved operational excellence for various automation lines within food, manufacturing, aerospace, and logistics
Clients Tom's worked with: DPD, Hermes Int'l, Avara Foods (supplies Tesco & Sainsbury's), Amazon, Dataiku, Robocorp, Coca-Cola, Howdens.
Feel free to connect with Tom Allen or Rob Turley on LinkedIn or follow Rob @RobTurley2 on Twitter! 
#DTRHpodcast #AI #ML #TheAIJourn #Technology #Futurist #Innovation #Blockchain