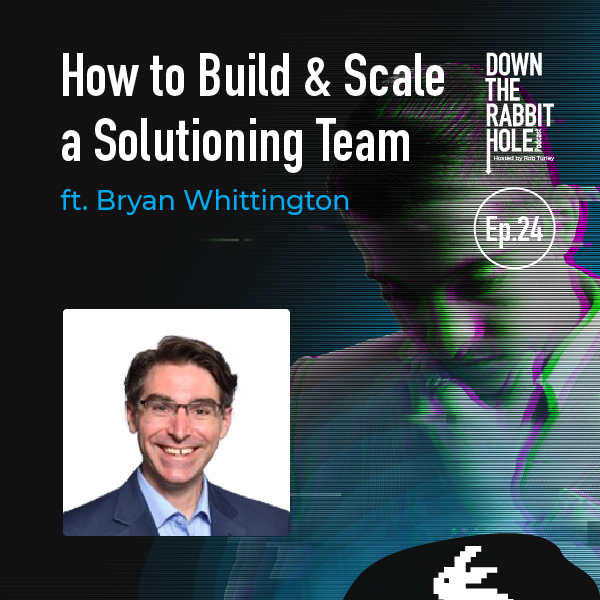 DTRH Episode 24 
How to Build & Scale a Solutioning Team 
A sales team's capacity to solve problems is imperative for a valuable buying experience. C-Suite and VP-level executives' jobs are to solve complex problems. If you cannot help them solve complex problems, you're selling novelty, not a solution. How do we teach salespeople how to solution sell? 
Key Takeaways: 
No one gives a sh*t about the product:

Help solve a problem.

Stop pitching products or features. No one cares about the product. They care about solving issues they're dealing with. That's it. 
 

Use mind-mapping when selling:

The technique of visualizing the problem to propose a solution while working with a prospect is a powerful and effective way to understand how it all connects. 
 

Solution selling cannot be scripted:

The ability to define a subject or a solution in multiple ways (at least five ways is recommended) is key to developing the buyer's understanding of a proposal. 
Episode Summary 
In today's episode of Down The Rabbit Hole, your host, Rob Turley, Co-Founder & Co-CEO at White Rabbit Intel, delves deep into the mind of Bryan Whittington to learn how to build and scale a solutioning sales team. 
Solution selling is the most effective form of sales. A team trained to solve problems and understand how to break down the complexity of a set of issues that a business has, thread a solution into a well-crafted and easy-to-follow proposal will have a greater close ratio. 
This episode will help you understand how to build a team with well-developed solutioning skills that do not sell the product or product features as the value add. Products are a commodity unless a solution to an existing problem is tied into it and delivered as the value add first. 
Become a solutioning master by learning the ins, outs, tips, and tricks necessary to sharpen your team's solution selling competency. 
About Bryan 
Bryan Whittington, Founder at ebsGrowth and Sandler Sales Training Franchisee, believes that predictable growth enables a company to reach its true potential. 
Bryan often asks people if they are staring at the ceiling at night to figure out why they're stalled. A fresh set of eyes helps you boost your revenue to the heights you only dreamed about. 
Bryan is the bane of the sales leader that talks a good game but then never produce's existence.  
He helps B2B SMBs with technical and complex product offerings to assess their current structure, design a world-class revenue machine, and build and then innovate their revenue operations, enabling them to scale profitably. 
Bryan has already made the mistakes, had the hard life lessons, and has the scars to prove it.
Don't suffer through the same grief that we've had to endure. Bryan helps save the heartache. (The time and money too). 
"We fight like we train so let's train like we fight." 

- Bryan Whittington
Feel free to connect with Bryan Whittington or Rob Turley on LinkedIn, or follow Bryan @ebs_Growth or Rob @RobTurley2 on Twitter! 
#DTRHpodcast #FollowTheWhiteRabbit #Sales #SalesEnablement #TeamBuilding #SolutionSelling #SolutionSkills #Scale #Growth #BuyersJourney